Hiring a divorce lawyer serving The Woodlands requires more planning than simply selecting a name from a phone book. The right attorney will thoroughly prepare you for the hearing or help you explore alternatives to a formal trial. He or she will serve as your legal advocate and function to protect your best interests. Before you hire a divorce lawyer , you'll need to meet with him or her to discuss your case and ask any questions you may have. It's always wise to write down a few questions prior to arriving for your first consultation with a divorce lawyer.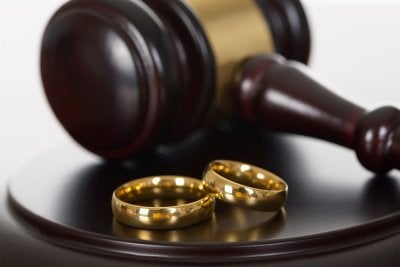 Schedule an Initial Consultation
If a divorce lawyer is highly recommended by your friends or family members, then you'll need to schedule a brief appointment before hiring him or her. Be sure to ask if the family attorney charges a consultation fee for the appointment. Some divorce lawyers offer initial consultations free of charge. Others can charge over $500 each. When you go to the law office, bring along any relevant paperwork, such as a copy of a prenuptial agreement if you have one as well as any pleadings which may have been served upon you by your spouse's lawyer.
Ask the Right Questions
You can expect the divorce lawyer to ask you some questions about your case and your goals for the outcome of the divorce. For example, would you like to pursue physical custody of the children, and do you plan to seek spousal support? In turn, you'll have the opportunity to ask the lawyer a few questions. Since your time is limited, make such questions count. You can ask how much experience the lawyer has handling divorce cases and how the lawyer might approach your case. What is his or her governing philosophy in general? You can also ask about the lawyer's views regarding the advisibility an agreed or uncontested divorce.
Discuss Practical Arrangements
Before you leave the law office, make sure you understand how the logistics of your case will be handled, and the expected time frame. Discuss arrangements such as the lawyer's fee structure, how often you'll be contacted with updates, and who you should call if you have questions later on.
Trust Your Instincts
After your consultation, take a few minutes to evaluate the information you received and the first impression the lawyer made. Although choosing a lawyer with experience is a must, it's critical to select a lawyer with whom you feel comfortable discussing highly personal, sensitive matters. A world-famous lawyer who you cannot communicate with is much worse than the average Joe six-pack lawyer with whom you can both communicate and feel comfortable. Hire a divorce lawyer who will treat you with the compassion and respect you deserve during a difficult time in your life.